I chose to attend the University of Michigan after going to an incredibly small college preparatory school that left me feeling stifled and in need of a drastic change. I got exactly what I wanted when I stepped onto campus the fall of my freshman year; everywhere I turned there was a new person for me to meet. Yet, I immediately felt overwhelmed by the vast size of this institution. I now felt like a minnow in a sea of sharks. It seems as if there are a billion different organizations at the University and everyone is occupied and passionate about something. The truth is though, that even though the University does provide various communities for the students to be a part of, there is still a sense of disjointedness when I speak with many of my peers. 
Could this be because of the administration? Have we created a university that is structured around self-involvement that it does not encourage collaboration both academically and socially? If so, it would certainly reflect the political climate of our society today.
In reading the works of Hobbes, Rousseau, and Locke in class recently, I immediately began to make connections to different institutions in my own life and those that I encounter on an every day basis. The most glaring of these was Michigan. Obviously, we are not in a state of nature, but we are being ruled over with a governing body. We have social contracts to maintain; if we pay for our education and obey the rules in turn the University will give us the tools to go out into the world a successful individual.
These three theorists would disagree about what a lack of structure, i.e. the state of nature would do to education… If we were all free to choose how to educate ourselves little would probably get done and chaos would ensue. Rousseau would lead you to believe that the state of nature was a place without rationality with vast freedom, while Hobbes would argue that people are intrinsically selfish and would undoubtedly turn one each other, and Locke would be in the middle ground saying that while all people are self-interested in the state of nature, but also nonviolent.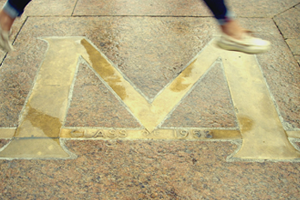 I believe that the students at Michigan are ruled to an extent with all of these social contract and state of nature theories in mind. Our University is run by a democracy similar to the proposed solution by Locke with delegates presiding over our supposed best interests (Regents! Athletic directors!). While we do not have a sovereign (something Hobbes would endorse) to rule over us, there is an idea that if left without rules we would become self-interested, fearful barbarians.
This is a competitive university, with some of the most talented students in the world. This may also arguably be the most divided period in recent years for the campus. People divide themselves based on clubs, interests, athletic capabilities, Greek Life, even class and race to a certain extent causing social disjointedness. Continuously, there is a discussion raging on campus about the lack of diversity amongst the student body.
However, there are times when I look around this campus and I have never seen it more united. Most recently, the student body came together with the support of alumni for a rally to fire the now former athletic director, Dave Brandon. It is worth noting that this could not happen in a Hobbesian type rule. It's moments like these, though, that give me hope for Michigan, that despite its huge size the students can still gather and maintain a sense of community. I think that people forget that even though we are so big that we are united over one common desire: to be at this school and have an amazing future. So in my opinion people are actually more like Rousseau would claim them to be: when we need to come together we will, and we will make sure we all do our part to create a thriving and successful community.